Increasingly organisations are calling on external facilitators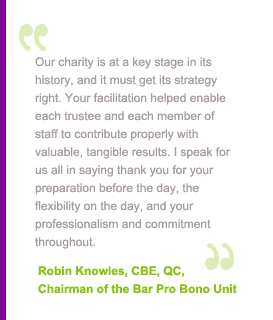 to ensure they get the best out of meetings.
Call us if you need someone who can motivate, animate and draw out each participant's ideas, ensure that each person's opinions are heard; that communication is clear and that the aims of the event are met.
We have expertise in and experience of working across departments in the NHS; facilitating council-led partnership projects as well as working with Management boards, and senior management teams for key organisations in the voluntary sector.
From facilitating a Citizen Advice Bureau Away Day for 33 CEOs at a global law firm's offices in Canary Wharf, to a WWF team planning event in Cardiff to a management Away Day for 6 at a community farm – we offer a fully flexible personalised service.
Director Rachel Puttick is an ILM (Institute of Leadership and Management) qualified facilitator, and a member of the International Association of Facilitators. Contact us for an informal consultation about your needs.