We play to the strengths of each individual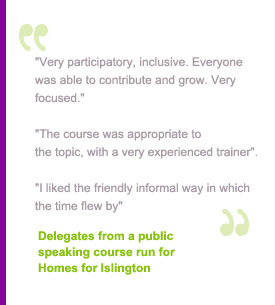 and their organisations by tailoring our communications courses accordingly. To do this, we write case studies that capture classic communication situations in your organisation, recreating scenes and dynamics that staff are likely to encounter, and work closely with each participant to support them in dealing with real life situations.
We find that this results in truly engaged participants who really absorb key messages, applying them in the work place directly following the course.
Below are some typical course topics:
Public speaking (tailored for those with nerves, highly experienced delegates; large audiences and leaders for example)

Perfecting your presentation skills

Negotiation Skills

Listening ­Skills

Communicating with impact

Managing conflict

Communicating leadership
Contact us for typical learning outcomes and programmes.